10th Annual CPA Day of Service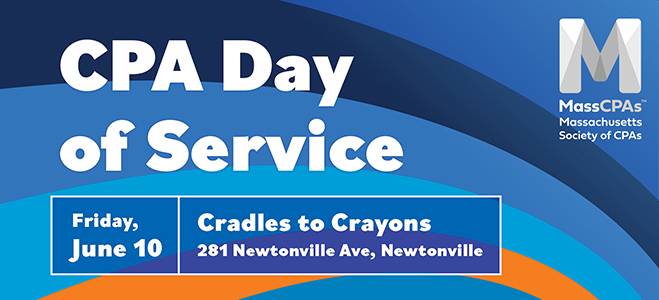 What is the CPA Day of Service?
---
The CPA Day of Service encourages MassCPAs members to get involved in their communities through volunteerism projects. This year's Day of Service will be Friday, June 10. To sign up, please fill out this form by Friday, June 3.
CPA Industry Day at Cradles to Crayons
MassCPAs has partnered with Cradles to Crayons (C2C), a nonprofit organization that hosts special industry days to bring together colleagues from similar industries to help serve children across the Commonwealth. C2C will be holding a "CPA Industry Day" for MassCPAs members on Friday, June 10, where members can volunteer in shifts between 10:00 a.m.–12:00 p.m. and/or 1:00–3:00 p.m. Additional details:
Due to limited staff, C2C can hold up to 80 volunteers for the morning shift and up to 50 volunteers for the afternoon shift
Masks are not required but can be provided by C2C if needed
Volunteers do not have to be vaccinated; however, C2C staff is fully vaccinated
Donations are encouraged from participating firms/companies
To learn more about the partnership, click here. To sign up, click here.

Please note: Participants must each sign up through C2C to participate. Please contact Katherine Twait, corporate relations coordinator at ktwait@cradlestocrayons.org or 617.402.2096. C2C has moved its warehouse to 281 Newtonville Avenue, Newtonville, MA 02460.
To view the photos from the 9th Annual Day of Service, visit masscpas.org/dosphotos19 (download password: dos) or check out our September 2019 issue of SumNews.
---
How Does MassCPAs' Day of Service Work?
---
Volunteers must follow these steps to participate:
Select a cause — Choose an organization to work with
Contact your charity — Contact your chosen organization immediately to find out about opportunities available on the selected date (some charities have limited space and opportunities)
Sign up — After you have chosen and contacted an organization, volunteers will fill out a sign-up form and officially sign up for the CPA Day of Service
Participate — Show your pride and the generosity of the CPA profession by serving your community!
Follow-up — After your Day of Service is complete, send pictures and feedback to hnaranjo@masscpas.org. They will be posted on our website, in SumNews and used in media outreach to show what a difference Massachusetts CPAs can make
---
How Do I Choose an Organization to Help?
---
If you don't already have a standing relationship with a charitable organization and you are looking for a good cause, MassCPAs has a few suggestions (listed below), or you can reach out to your local schools, libraries and community organizations to learn how you can get involved.
Check out the list of suggested organizations below to volunteer at.
Suggested Organizations:
Visit these websites dedicated to matching volunteers with available opportunities:
---
Participants
---
2019:
AAFCPAs
ALL CPAs
Axial Benefits Group
Baker Newman Noyes
blumshapiro
BNY Mellon Wealth Management
Boston Mutual Life Insurance Company
Burkhart Pizzanelli, P.C.
Caras & Shulman, PC
Castro, Thresher & Oliveira, PC
CLA (CliftonLarsonAllen LLP)
CRR CPA
Dale Pinkham Cavanaugh, CPA
DGC (DiCicco, Gulman & Company LLP)
EJ Callahan & Associates, LLC
Gray, Gray & Gray, LLP
G.T. Reilly & Company
IPS Fund Services
Johnson O'Connor
Katz, Nannis + Solomon PC
KLR
KPM (Kevin P. Martin & Associates, P.C.)
Levine, Caufield, Martin & Goldberg, PC
LGA
Matrix Financial, LLC
MassCPAs
Newburg & Company, LLP
O'Brien Riley & Ryan, P.C.
O'Connor & Drew, P.C.
Spinelli CPA PC
Stone & Company, LLC
tonneson + co
Winer CPA, PC
Wolf & Company, P.C.
Zack & Company, P.C.
2018:
AAFCPAs
ALL CPAs
Baker Newman Noyes
BlumShapiro
Caras & Shulman, PC
CliftonLarsonAllen LLP (CLA)
CohnReznick
DGC (DiCicco, Gulman & Company LLP)
Edelstein & Company LLP
G.T. Reilly & Company
Hague, Sahady & Co., P.C.
IPS Fund Services
JMC Capital Partners
Johnson O'Connor
Kenneth L. Kaplan CPA
Kesner, Godes & Morrissey, LLC
Kevin P. Martin & Associates, P.C.
KLR
Levine, Caufield, Martin & Goldberg, PC (LCMG)
LGA
Mark W. Nichols CPA, PC
MassCPAs
Newburg & Company, LLP
O'Connor & Drew, P.C.
PKF PC
Rodman CPAs
S&G, LLP
T Conley Consulting
tonneson + co
Walter & Shuffain, P.C.
Wolf & Company, P.C.
2017:
AAFCPAs
Abrams Little-Gill Loberfeld PC
BlumShapiro & Company, P. C.
Caras & Shulman
Castro, Thresher & Oliveira, PC
CliftonLarsonAllen LLP
Costantino Richards Rizzo, LLP
DiCicco, Gulman & Company LLP
Edelsein & Company, LLP
Hague, Sahady & Co., P.C.
Johnson O'Connor
Katz, Nannis + Solomon, PC
Kesner, Godes & Morrissey, LLC
Kevin P. Martin & Associates, P.C.
KLR
Landmark Financial Services Group LLC
Levine, Caufield, Martin & Goldberg, PC
LGA
Morgan & Morgan, PC
MassCPAs
Newburg & Company, LLP
O'Brien, Riley & Ryan
O'Connor & Drew, P.C.
Raphael & Raphael LLP
Rodman CPAs
Rucci, Bardaro & Falzone, PC
Schwartz & Schwartz