2023 MassCPAs Fitness Challenge
MassCPAs annual Fitness Challenge is designed to help members stay active during tax season and winter! The seventh annual Fitness Challenge began February 7 and will end on April 18. Team totals are calculated by average, and teams of up to 50 participants can sign up (individuals are encouraged to sign up as well). Award categories will be based on the following team sizes and we'll also have an overall winner:
1 (Individual Team)
2 – 10 Team Members
11 – 20 Team Members
21 – 30 Team Members
31 – 50 Team Members
Steps are tracked using the Challenge Runner app or by manually inputting them via ChallengeRunner.com. To view our FAQs, click here.
Listen to our playlist to help get you pumped up during your workout or walking routine!
Share your photos by tagging us on LinkedIn, Instagram, Facebook and Twitter using #MassCPAsFitnessChallenge. Peloton users can also join MassCPAs staff members and Fitness Challenge participants during these LIVE classes! Don't forget to use hashtag #aCOUNTmein so we can see you on the leaderboard!
Join the challenge by simply scanning the QR code below!
Race to the IRS!
Participants will begin their journey from MassCPAs office in Boston, making pit stops (waypoints) at the offices of the Connecticut Society of CPAs, the New York Society of CPAs, the New Jersey Society of CPAs, the Pennsylvania Society of CPAs, the Maryland Society of CPAs and finally ending at the IRS office in Washington D.C.! You can view your team's progress on the map on your web browser by selecting the three dots on the Leaderboard and selecting "Map," or in the app by clicking on the Leaderboard and selecting "Map."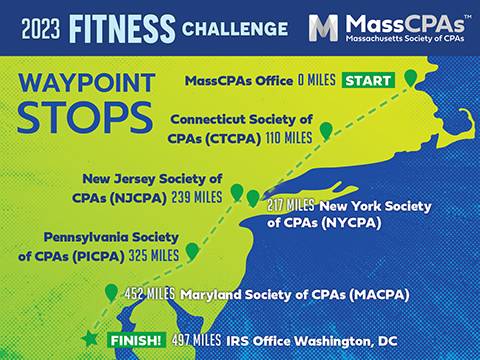 Have questions? Check out this FAQ sheet that covers all of the essential information you need to step it up this tax season!

To view your competition's photos, click here.
Step 1: The team captain for each team must sign up by filling out our registration form at masscpas.org/fcsignup.
The team captain or individual (if you're not on a team) must register their team (this is how we'll track your team internally) by 11:59 p.m. on Monday, February 6: masscpas.org/fcsignup. (Note: select ONE person to register your team for the challenge to be your team's point of contact). However, all participants (including the team captain) must sign up for the challenge through the ChallengeRunner website. This is where your steps will be tracked and you can view your team and other team's progress. Sign up by clicking here.
Step 2: ALL PARTICIPANTS must join the challenge in ChallengeRunner (Again, where your steps will be tracked and you can view your team and other team's progress).
Each individual team member must go to masscpas.org/joinchallenge; and
Create or login to your ChallengeRunner account prior to the challenge kick-off by 11:59 p.m. on Monday, February 6. The challenge begins at 12:00 a.m. on Tuesday, February 7, which is when your steps will officially start calculating.
Step 3: Create or join your team in ChallengeRunner.
Already have a ChallengeRunner account or need to create an account? For those of you who have participated in the challenge who have an existing username on ChallengeRunner, follow the steps below to manually select your team's category and create or join a team, or click here to directly join the 2023 MassCPAs Fitness Challenge:
Login
Select 2023 MassCPAs Fitness Challenge
Click your name at the top right
Select "Profile"
Select your category by team size (referred to as a "location")
Creating or joining a team: To create or select your team, join the challenge directly by going to masscpas.org/joinchallenge. Once you are officially logged in, you will be directed to a page where you can select a team or create a new team. Please note: If you are competing as an individual, please still create a team/team name for yourself in ChallengeRunner. After joining the challenge with the link above, you'll see "Your challenge starts in X # days" with "Select Team" to the right.

If you need to skip this option above, you can always select your team later. After having joined the challenge, you can login into your account at anytime and create/join your appropriate team.
Step 4: Sync your device.
Sync your device on the ChallengeRunner website/app to calculate your steps (details below).

Hint: You may not think you have a fitness device but if you have an iPhone, the Apple Health app actually tracks your steps every day.
To Sync Your Device:
You must own one of the following devices- FitBit, Garmin, Jawbone, Moves App, Misfit, Fitbug, Google Fit, Apple Health, or Withings;
Once you log into ChallengeRunner, click the green "Trackers" button to sync your fitness device. If you don't see the green button just click your name on the upper right-hand corner of the page and go to your profile. At the bottom you'll see a drop-down menu to sync your device;
You will be redirected to the device's website to verify your account (ex. If you have a Fitbit, it will redirect you to log into your Fitbit account on Fitbit's website); and
You're finished! Your device will automatically sync to ChallengeRunner every 15 minutes until the challenge is over.
Note: If you use Apple Health you cannot sync via the website, you must sync via the mobile app. After you create your account, download the ChallengeRunner app from the app store on your phone. Go to your phone's settings menu and click on "ChallengeRunner." Click "Enabled." Go to the app and login using your credentials. After a few minutes the two apps will sync.

How Do I Submit My Step Count Each Day?
You have two options. You can sync your fitness device to automatically send your step count to ChallengeRunner, OR you can input your data manually each day.

To convert other forms of exercise into steps, refer to this conversion chart.

To Input Data Manually:
Each night before you go to bed check your step counter, log into your ChallengeRunner account and input the number of steps in the empty box next to your name. If you forget to input your steps, you can go back at any given day(s)/time to submit them. Please read these tips to make sure you're tracking your steps properly:
Sync your steps daily with the Challenge Runner app and click "Save" to record the steps. If you forget to sync your steps daily, you can input data from previous days. In the Challenge Runner App click "Change Date" and select the date/s you'd like to input. Clicks "Save" after each date. If you're using the Apple Health app to track your steps, you can search previous dates on this app as well; and
You can also input the steps using your web
browser: https://challengerunner.com. Select "Log Date" and choose which date you want to save your steps. After typing in your steps, wait 5-10 second and an orange "saved" will appear next to the box.
How Can I See the Number of Steps My Device Logged?
Download the ChallengeRunner app on your phone and login info to view the leaderboard.
When Is the Challenge Over?
The challenge ends at 11:59 p.m. on Tuesday, April 18, 2023. We will announce the winners by end of the month and prizes will be awarded!
Last year, we had over 650 participants with 68 teams. To view the winners from last here, click here.