CPE PLUS Program – 20 Free CPE Credits for All Members
CPE PLUS is a brand-new benefit that gives MassCPAs members access to 20 free CPE credits throughout the membership year. All credits are offered through a select group of CPE webinars. Only members who join or renew their 2021–22 memberships are eligible for this exclusive program — and the sooner you do, the more credits you can receive for FREE.
---
How It Works
---
---
From May 1, 2022–April 30, 2023, MassCPAs will offer 20 webinars covering a wide range of topics that give members the information they need to stay current on trends and the latest changes affecting the accounting profession. Only current MassCPAs members are eligible. To check the status of your membership and pay your dues, click here.
Don't delay renewing your membership!
The number of credits you can receive is determined by when you join or renew. CPE PLUS webinars will be spread throughout the membership year, so the earlier you join or renew your membership, the more credits you can receive.
---
Upcoming CPE PLUS Webinars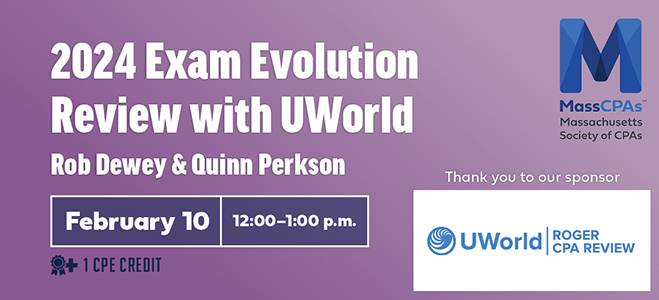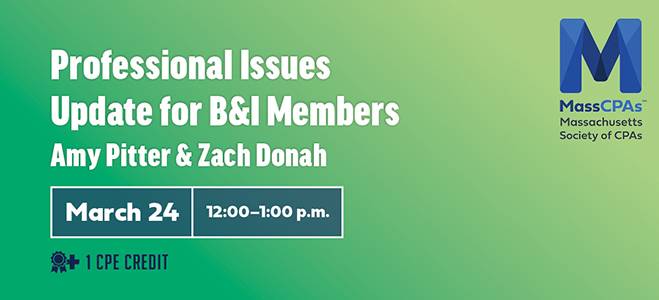 ---
---
Past Topics
---
How to Stay Secure in the Age of Cybercrime: Think Like a Hacker
Outsourcing as a Practice Management Strategy
ESG
Protecting Your Clients If You Are Incapacitated
Partnership Redemptions and Partnership Divisions
HR Update
Cyber Insurance
Professional Issues Update
Cybersecurity
Fraud
Employee Retention Credit (ERC)
M&A Financing
1031 Safeharbors
1031 Exchange
Advisory Work
AI and Machine Learning
Practice Management during COVID-19
The Stock Market
Estate Tax
Post-Pandemic Tax Strategies
Forensic and Valuation Services
Risk Management

---
This page and the CPE schedule will be updated regularly with upcoming webinars and registration information.