2023 MassCPAs Wellness Series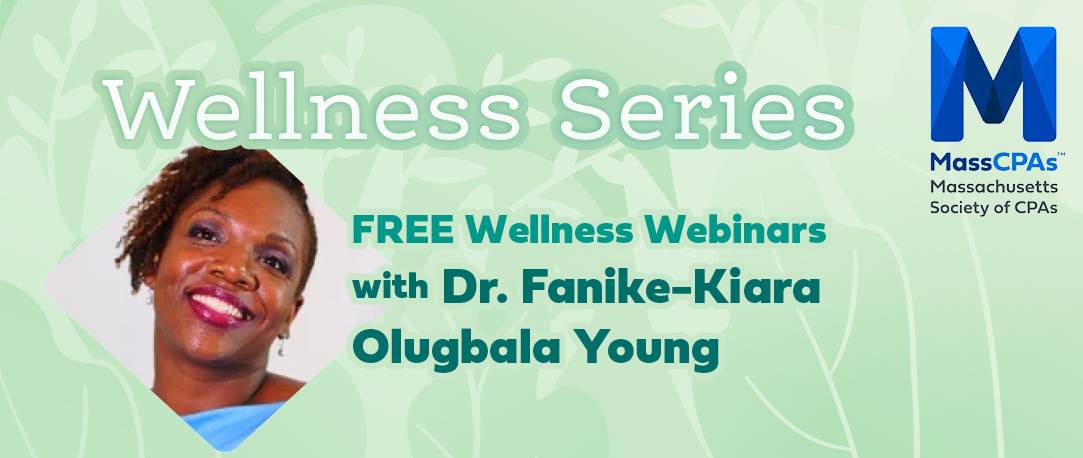 ---
FREE Wellness Webinars
---
Prioritize a healthy lifestyle during busy season and beyond! This tax season, we're partnering with Dr. Fanike-Kiara Olugbala Young, an integrative wellness program designer and business profit growth strategist, to provide FREE wellness webinars as part of MassCPAs 2023 Wellness Series for members to explore different approaches that will help prioritize their physical and mental health.

What's more? Each session qualifies for one CPE credit! You can learn more and register for each session below.
---
Minding Your Assets: Improving Your Holistic Health (3/24)
To function at optimal levels, we must care for "all" of ourselves. This means being intentional about our physical and mental health and all our health systems. This workshop will engage you in measuring your satisfaction levels in key areas of life as well as finding ways to improve them. Participants will identify how to decrease the adverse effects of stress and increase personal health, happiness and well-being, explore overall wellness levels of the key areas of life, implement steps to care for the whole person and more. REGISTER
---
FREE Yoga Week
---
Remember to take care of YOU during busy season! You are invited to join Bridget Harton Fitness for a free week of fitness classes in February, March and April. Bridget Harton, CPA, is a fellow accountant who started taking online fitness classes as a way to stay active and relieve stress during tax season. These classes fit her busy lifestyle so well that she decided to help spread the joy of movement by instructing fitness classes for others. Her classes range from yoga to Zumba to combo strength/cardio classes with class times in the early morning and late afternoon to accommodate those who are working in the convenience of their own home. Sign up for one class or take all seven! All skill levels are welcome to join, so kick off the New Year and busy season right by taking time for you!
More information along with registration information can be found at bridgethartonfitness.com. Use code TAXSEASON when signing up for classes April 3–9
---
MassCPAs Fitness Challenge
---
In addition to providing free wellness webinars, MassCPAs 7th Annual Fitness Challenge is also an integral part of our 2023 Wellness Series. This friendly competition will run from February 7 – April 18.

Team totals are calculated by average steps with the ChallengeRunner website/app. Teams of up to 50 participants (individuals included) can sign up. Award categories will be based on the following team sizes, and we'll also have an overall winner:
1 (Individual)
2–10 Team Members
11–20 Team Members
21–30 Team Members
31–50 Team Members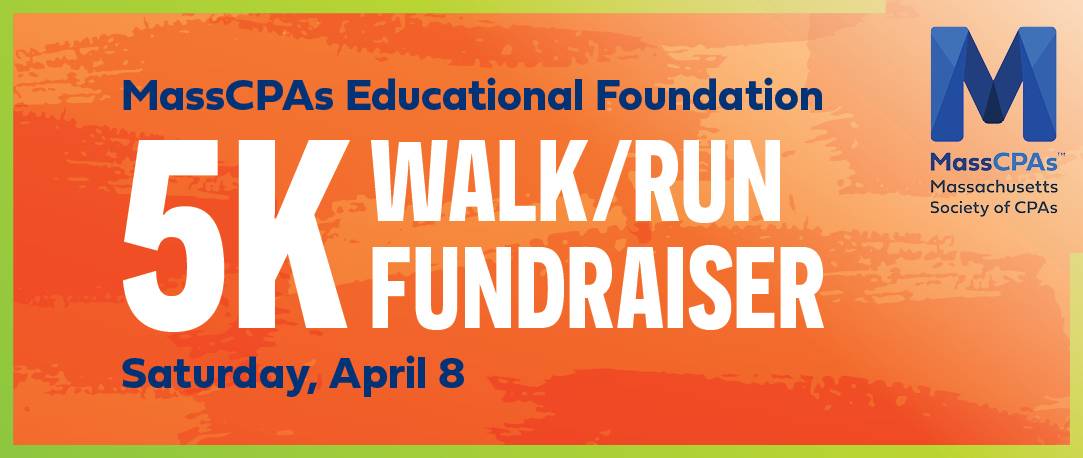 ---
Virtual 5k Walk/Run Fundraiser
---
Support future CPAs while focusing on your fitness! Sign up as an individual or register a team to join us for our 3rd annual virtual 5K on Saturday, April 8!
Your $30 registration will benefit the MassCPAs Educational Foundation, which helps fund scholarships and CPA Exam vouchers to worthy accounting students in Massachusetts! To sign up, click here.

Please note: To track your time, please use a free app such as "Runkeeper" or "MapMyRun" and submit your final time when finished. If you are unable to participate on Saturday, April 8, you can submit a time until Monday, April 7.