Member Spotlight | Michael Clements, CPA, CVA, MST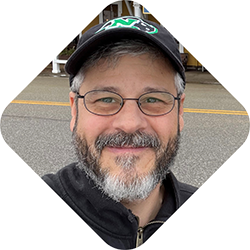 Michael Clements, CPA, CVA, MST
Partner | Paresky Flitt & Company, LLP
Read on to learn more about why he chose accounting, his career and the importance of having a supportive team.
What made you choose accounting?
---
I had a singular focus on becoming a CPA from the time I was 14. I remember reading an article on the top paying careers and CPA was on the list. I was good at math and thought it would be a perfect career path that would also allow me to be financially secure.
Tell us about your career path.
---
My goal was always to become a partner, but it took a bit longer than I anticipated. After working at a life insurance company and then as a staff accountant, I was anxious to take on more challenges and in 1998, I joined Paresky Flitt & Company, LLP (PFC). I learned so much from everyone there, not only improving my technical skills, but also what it takes to run a successful firm. I left PFC in 2008 and spent much of the next decade at a larger regional firm where I grew into a leadership role. I had remained in touch with colleagues at PFC, and in 2018, when one of the original founders was retiring, they asked me to return to help with the transition. I will never forget that day, not only because it was the culmination of a lifelong dream, but also because it felt like I was going home.
What would you tell someone interested in accounting?
---
I love my job and think the accounting profession offers great opportunities. It can be challenging, but I would tell them to embrace those challenges and learn from them. Find a great place to work that will not only provide opportunities to learn and grow, but also the ability to have a balanced life. If you haven't found that place yet, keep looking – you will find it eventually.
What has been your biggest challenge since becoming partner?
---
While there are always challenges at work, my biggest challenge has been dealing with my son's liver disease. Within a year of becoming partner, my 21-year-old son, Hunter, was diagnosed with liver disease and was told he would need a liver transplant. Despite this news, he continued to enjoy life, going to concerts, interning at Disney World and graduating from Nichols College. On July 27, we got the call that they had a donor. Hunter received his new liver the next day and has had an amazing recovery. It was a difficult year juggling my responsibilities at work, while also supporting my son and his recovery, but I am blessed to work with a team that helped lessen my workload so I could focus on my family. We will be forever grateful to the Lahey Burlington liver transplant team and most importantly, the wonderful person who was Hunter's organ donor. I encourage everyone who can do it, to consider becoming an organ donor. Hunter is living proof that you can change someone's life.