Celebrating National Hispanic Heritage Month
To celebrate National Hispanic Heritage Month, we're recognizing MassCPAs members who are helping us grow and diversify the accounting pipeline.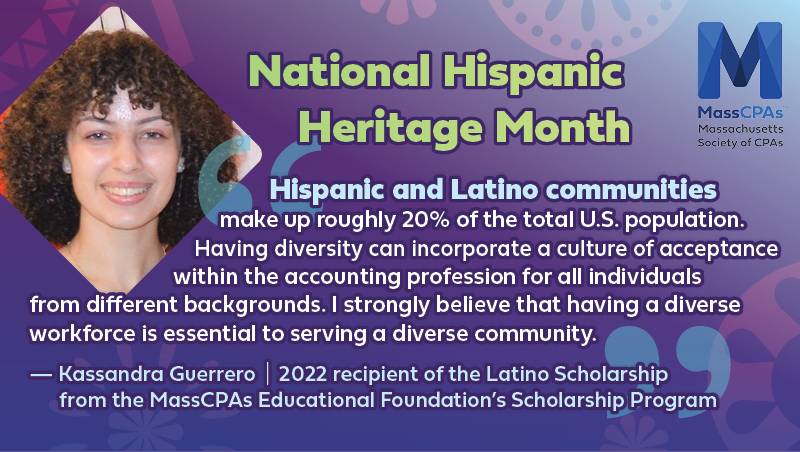 The Hispanic and Latino communities are currently underrepresented in the accounting profession. Tell us why the profession needs more Hispanic and Latino CPAs. How will this help the community?
---
The U.S. is known mainly for its makeup of diversity amongst its citizens coming from variety of cultural backgrounds. Hispanic and Latino communities make up roughly 20% of the total U.S. population. Why can't the accounting profession also represent the diversity that is represented within the country? The states, cities, towns and communities have diversity within them, so it is essential to have diversity amongst the accounting workforce serving them. Diversity can incorporate a culture of acceptance within the accounting profession for all individuals from different backgrounds. Seeing that type of culture and the social acceptance can encourage other individuals that identify as Latino or Hispanic to pursue a career in accounting profession. Having a diverse workforce is essential to serving a diverse community.
How did receiving a MassCPAs scholarship impact you?
---
As a Hispanic woman being a recipient of the MassCPAs scholarship, I am honored. I am currently working 40–50-hour work weeks while attending college as a full-time student. The reason for that being that I have full financial responsibility for myself. Being a recipient of this scholarship has given me encouragement to continue my determination to pursue my accounting degree. It has also helped me out financially by covering a portion of college expenses which alleviates a lot of stress that has been put onto my shoulders. I want to thank all of you for contributing towards my education and for giving me the motivation to continue with my goal of getting my accounting degree.