Every month, the Society showcases a college and high school student member on our social media channels to share their background and why they want to pursue accounting as a career.
April Features
---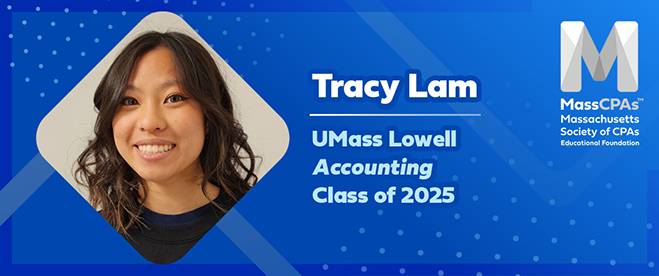 How did you first learn about accounting?
I was undecided in my senior year and my uncle suggested I give it a try. My first accounting class was during my sophomore year with a professor who is now one of my favorites!
What is something you work on in your free time?
Improving my health and growing my network. Studying is a big part of passing each semester, but maintaining a healthy lifestyle is also important, as it will impact my motivation to study and attend my classes.
What is the best advice you've received?
"If you keep telling yourself you can't, then you might as well start falling." As someone who always wants to do better and climb higher, it's important to be positive and have patience!
Describe yourself in 3 words:
Empathetic, determined and approachable.
How did you first learn about accounting?
As a young girl, my mother would bring me into work when she was doing taxes, and as I got older, I grew more interested. In high school I took an accounting class and really enjoyed learning the basics. After that, I was hooked and knew I wanted to pursue a degree in accounting.
If you could meet any famous person dead or alive, who would it be and why?
Morgan Wallen. His music really calms me down in stressful situations and allows me to jam out in the car rides to and from school.
Share a favorite excerpt from a movie, book or poem. Why do you like it so much?
"There is no living thing that is not afraid when it faces danger. The true courage is in facing danger when you are afraid, and that kind of courage you have in plenty." — The Wonderful Wizard of Oz
This quote provides a great perspective on how to handle challenges when they arise. Watching this movie when I was younger impacted my life in various ways due to the powerful quotes and meaningful sayings.
Share something about yourself that would surprise most people.
I am an only child. Growing up without any siblings taught me to be more independent and challenged me to be more outgoing. It has helped me interact with and present myself to new people.
March Features
---
How did you first learn about accounting?
I always knew that I wanted to work with numbers and technology. Sitting in front of a computer and working on something I understand and master at sounds like The Life to me. I believe this job comes with confidence as a gift.
What excites you to study accounting or finance in the future?
The thought of spending the rest of my life working for bosses that were never qualified is enough to send me spiraling. Being able to make my own schedule and the opportunities to travel is exciting.
Share a favorite excerpt from a movie, book or poem. Why do you like it so much?
My favorite excerpt is from the movie The Little Prince and it goes:
"It is the time that you have wasted for your rose that makes your rose important." In the movie, the little prince found a lonely planet with only one rose on it. That rose became his best friend and his love, but after a while he travels to a different planet filled with roses just like his and he becomes lost. His other friend, the fox, explained to him that just because there are a million different roses just like the one the little prince loved doesn't mean it loses its value. The rose is not important because it's a rose; it's importance comes from the shared times and memories together that no other rose has.
Share something about yourself that would surprise most people.
One thing about myself that would surprise people is that I'm very spiritual. I love to ponder on the complex, it's one of the ways I train myself to never be afraid of the unknown, and regardless of what happens as long as there is a tomorrow waiting for me I can always try again.
How did you learn about accounting?
From my dad – ever since I was young, he shared his career and inspired me to follow in his footsteps. I always knew my future would be in accounting. I pursued internships in a variety of finance and accounting fields, learning as much as I could to benefit my future and become familiar with different fields and industries. I hope to further my accounting experience and knowledge as my career progresses through both college and my professional life.
Describe yourself in 3 words:
Determined, self-motivated and reliable.
What do you enjoy in your free time?
I love adventures and trying new things. I enjoy hiking, camping and traveling, and having adventures with my boyfriend and family.
What is the best piece of advice you've ever received?
Never stop having fun. Having something to look forward to has always been and will always be my motivation for everything, so being able to do that is critical to my future success.